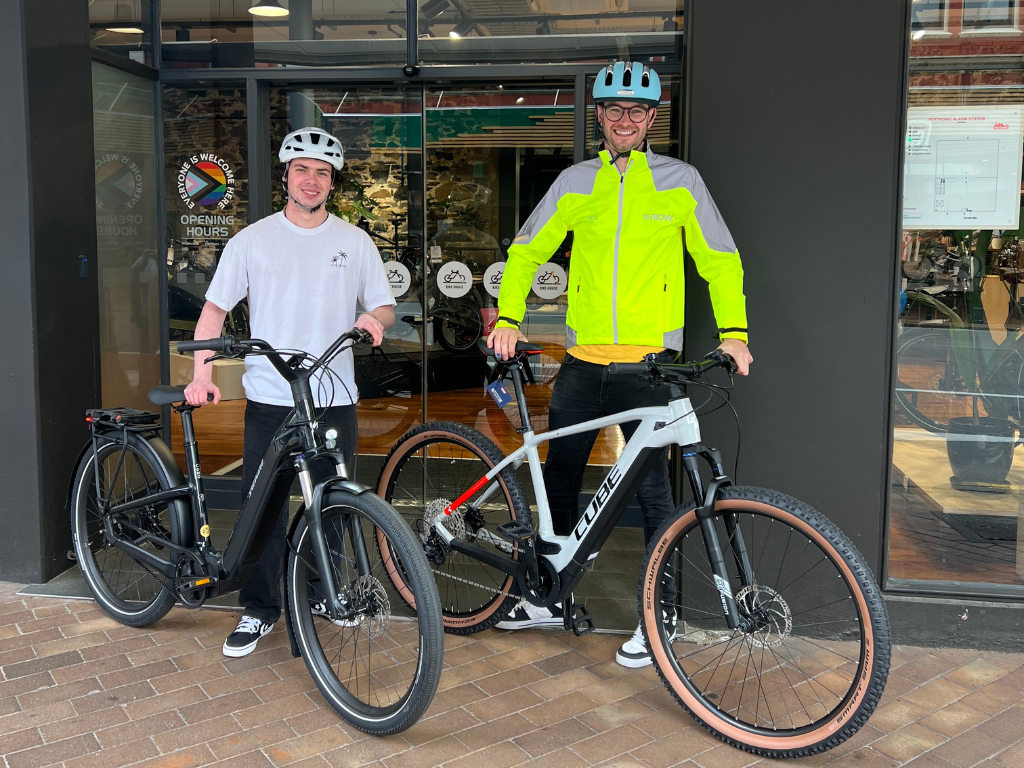 We decided to do a review of x3 of our e-bikes we have in store. We took each bike out for a spin and took into account comfort, gear change, display screen, power and effort. 
The bikes we reviewed are - Sinch Jaunt 2, Specialized Turbo Como and the Cube Reaction Pro.
Route Taken for Each Bike
We started in the Lifestyle store, rode up the first part of Stuart St, then turned down a side street just before Moana Pool, then looped back around the octagon and rode up High St, and then back along Prince St to the shop.
Sinch Jaunt 2 Internal
The Sinch was the first bike I rode, and I immediately noticed the 85Nm of torque going up Stuart St. I found the Sinch to be a comfortable bike to ride, and the display was super clean and easy to read while also trying to focus on the road. I found the gears to be nice and smooth, although there were times where I felt like I needed to change gear but didn't want to in case I put the chain under too much pressure. But other than that, a super comfortable bike to ride, with enough power to easily get the rider up the hills of Dunedin without breaking a sweat.
Pros
85Nm motor

Clean display

Comfortable ride
Cons
Didn't want to put stress on gears

Bike did make more noise than others 
Specialized Turbo Como 3.0 IGH
While I wasn't expecting much from this bike in terms of power, I was surprised by how much the 50Nm motor supported me while going up Stuart St. I did have to work a little harder to go the same speed than I did on the other two bikes, but it wasn't enough to turn me away from the bike. The display on this bike, while smaller than the display on the Sinch, was simple, and displayed only necessary information. One thing I grew to like was the cadence reader on the display. It helped to show if the gear I was in was too easy or too hard for what I was doing, and helped to get the most out of the motor and bike. The belt drive and internal gears felt amazing, and being able to change gear smoothly was something I got used to very quickly. However, I wasn't a fan of the grip-shift used to change gear, as I would often have to twist my arm around when I wanted to change gear. All in all, the Como 3.0 IGH was a super comfortable bike, which was easy to ride, and smooth to ride.
Pros
Belt drive with the internal gears

Cadence reader

Most comfortable of the 3 test bikes
Cons
Cube Reaction Pro 625
The Cube Reaction was the last bike I rode, and again I noticed the 85Nm of torque in the motor almost immediately while going up Stuart St. One thing I did pick up during this time was a whir coming from the motor while I used it. It wasn't anything to be alarmed or concerned about, but after riding two near silent bikes, the sound really stood out. I found this bike to be a lot more stable than the other bikes while going downhill, and it also gave me a much better riding position for climbing, but for riding along the flat, I would've liked to be a little more upright. The gears on this bike felt a bit clunky, and without a way to see what gear I was in without looking down, I found it hard to tell how close I was to the end of the gear range. Another great bike though, definitely a different feel to the other two, but still an enjoyable ride.
Pros
85Nm motor

Comfortable climbing position

Stable to descend on
Cons
Louder motor

No way to read gears on handlebar
The Verdict
No 1. Specialized Turbo Como 3.0 IGH
No 2. Sinch Jaunt 2 Internal
No 3. Cube Reaction Pro 625
We enjoyed riding all three of the bikes, but the one that stood out to me was the Como 3.0 IGH. It provided a much smooth ride than the other two bikes, and the ease that came with the belt drive and the internal gears. While, on paper, this bike has a lower torque than the other two bikes, I didn't have to work any harder while riding it up Stuart St, I only went up a little slower. I would be very happy using this bike as my daily driver. 
PS - Consider the Sinch 2.0 Internal if you want to do a lot of hill work. 
PPS - Consider the Cube Reaction Pro 625 if you want to cross into a little bit of mountain biking as well. 
Website by The Bold